Crèche and Childcare options on our Short Ski Breaks
If you're planning to ski with kids learning to ski, or younger non-skiing toddlers or infants, we generally recommend stays at one of our locations in the Aravis ski region – either our home base, the Aravis Lodge, or one of our hotel options in the resort of Le Grand Bornand.
At these locations we're able to provide a more fully supported service for arranging childcare and / or kids' ski lessons, to help make things as easy as possible for you.
Crèche and kids' ski lesson places are limited – especially during the busy holiday periods over Christmas, New Year and February half term. It's always best to book these extras as far in advance as you can.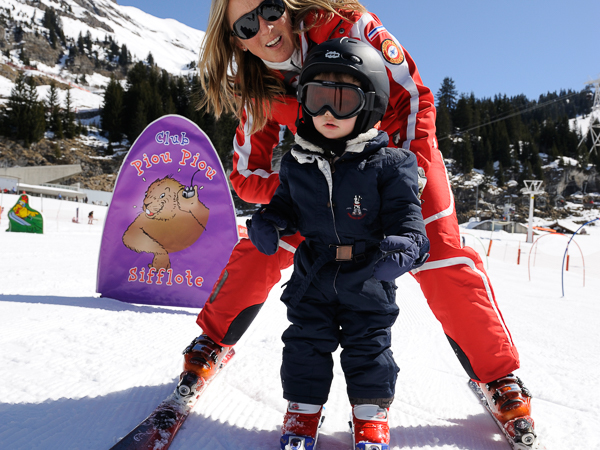 Le Grand Bornand Crèche – from 3 months to 4 years old
For parents looking to arrange childcare for infants and younger children, we recommend booking into the municipal crèche in Le Grand Bornand village. This is a purpose-built facility which is well staffed, reasonably priced and an excellent setup to provide year-round childcare for this popular family ski resort.
The crèche is a short walk or free ski bus ride from any of our Ski Weekender Lite hotel locations in Le Grand Bornand itself; for guests staying at the Aravis Lodge on our fully supported Classic package, we can help with minibus lifts to and from the crèche.
Crèche places are available children aged 3 months to 4 years. Various options of full days, morning or afternoons, with or without lunch included, are possible. Depending on the level of snow down at village level, an extra option for an hour of "ski play" led by an ESF instructor may also be available.
Bookings for crèche places do need to be made directly with the organisation itself, and paid for in advance. This can be done online; contact us for more information and we can guide you through the process.