You can be assured of a friendly and professional service from our ski team which goes far beyond that normally offered by the large skiing operators. Your dedicated Ski Weekender team will be there to look after every aspect of your time with us and are always on-hand to help you relax and unwind in a great setting.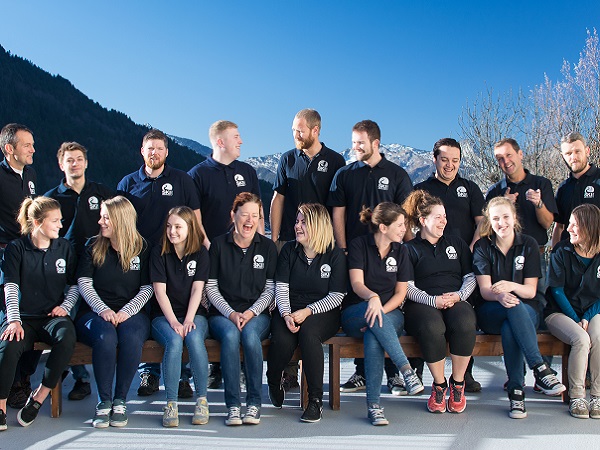 Whatever you are looking for out of your holiday – you can trust us to take the hassles away from your trip – after all, you are on holiday!
Although mostly all based at our Aravis Lodge you will see the our welcoming Drivers and Reps in other accommodations and at Geneva airport.
Our office based team are just a quick phone call away, and have a huge experience of all of our resorts, accommodations and how to help you get the most from your time away!
Recruitment and Work for Us
We have finished recruiting for this coming winter season 2017 / 2018. If you are interested in working for Ski Weekender next season please visit our recruitment page which has full details of all the job roles we will have on offer and how to apply for them.
Please see below our Ski Team for the 2017 / 18 season!




Paul
Ski Weekender's founder, used to be a snowboarder but is now to be found more often on skis. Although largely office based these days he enjoys grabbing a pair of skis whenever he gets the chance to accompany guests for a quick ski in all of our resorts. A fan of a cheeky beer of an evening, he is often in the lodge bar chatting before dinner.
Erica
Well and truly established in the Aravis region year round, Erica is now launching in to her seventh winter . In between trying to bring some order to the office, Erica will be around the lodge making sure that everything is ship-shape and from time to time might be found in the bar enjoying a quiet pint of the black stuff.
Teak
Four years after moving here from southern Turkey, Teak is now well settled in the Aravis with his family. A keen skier and road cyclist, Teak will be helping Paul with general operations around the business, and always up for a chat over a beer to talk about great days out on the slopes or in the saddle.
Tom
Tom is the person you'll speak to or email about booking your ski holiday with us. When he manages to escape the office, Tom is a keen snowboarder who enjoys getting out and about off piste to showcase his latest toys and gadgets. He's also our resident weather man – if you need to know the forecast, ask Tom – scarily he's normally right!




Natalie
Natalie joins us for her third winter. Nat has grown organically with us here and has now taken on the role of hotel manager. She will be leading the team to make sure that everyone is providing an excellent level of service and bringing fun to your trip with us. She'll be making sure you arrive with a smile and leave with a bigger one!
Sharon
Sharon is the other half of our sales and admin team, and though it's her first winter season with us, she has spent 2 summers with Bike Weekender, and has a strong background in customer care. Although she's a snow and mountain-lover, you're more likely to see her sporting a camera than a pair of skis, so you'd better watch out when she's around!
Loui
The epitome of the modern gypsy. Living in too many countries to mention, Loui travels the globe snowboarding, surfing & living simply, usually from the comfort of his self build camper. This will be his 4th winter season, but his first in Aravis. Having worked for over 10 years as a successful Mechanical Engineer, any problems or technical issues, Loui is your man!….That is if you can find him, he is normally waist deep in the back country
Becky
Becky graduated this year from the University of Kent in English Language and Linguistics. Last summer she worked as a lifeguard/counsellor at an American camp. She is really excited to experience her first winter season and is looking forward to meeting everyone and gaining some skiing skills on the slopes!




Vicky
Vicky has spent her summer travelling as much as possible, but in the winters she always lands back in the much loved Aravis. Having switched last season to the outdoor team, this is Vicky's fourth season with Ski Weekender and she will be more than happy to share her knowledge of the slopes and bars with you!
Rob
Rob is back for yet another season with us. Spending the summers walking mountains in the UK, he is now heading for his yearly winter fix. Having spent a lot of time in the Aravis he knows the slopes pretty well and will be happy to share some of the secret spots with you.
Jack
We welcome jack back for his 2nd season at the Aravis. This year jack will be one of the first people you meet as he has switched roles and joined the outdoor team. Jack will take care of getting you to the slopes and airport on time. He will be ensuring that you have a fun filled days on the slopes.
James
James is joining us for his first ski season having previously worked in Rome, Adelaide, Vancouver and LA. Cut his teeth with Joey Restaurants in Canada working under Iron Chef Chris Mills. Hails from Ilkley and loves cooking, cricket and fishing. James became a chef because becoming a model wasn't an option.




Gabby
Gabby has recently completed a Bachelor of Sport and Recreation Management. Throughout the university holidays she has worked within the hospitality industry and has loved the constant interaction with people. Having grown up skiing/snowboarding in the Southern Alps of New Zealand, her first season working in the French Alps comes with much anticipation and excitement. She is very much looking forward to hosting around the lodge and ensuring they have a memorable experience at the Aravis Lodge. She is currently touring Europe with some friends, before heading over to the Alps.
Grace
Grace has been working in a hotel for the past year, and generally loves doing sport, in particular playing Football. She has never skied before but it's something she has always wanted to do so if you see someone falling over a lot it will probably be her! By the end of the season Grace hopes to be an average skier.. having met loads of amazing people and friends along the way!
Rachel
Rachel is a marine biologist and expedition medic, who has spent much of the last decade up mountains or underwater. With longstanding passions for skiing, snowboarding and paragliding she feels a winter season is very overdue. This year she will be bringing her skills and experience to the front of house role where she looks forward to meeting and chatting to fellow snow sports enthusiasts.
Garry
Chef Garry (the old, handsome, funny Scottish guy!). Garry comes to chefing late as a 2nd career. First time around he made tv, radio and press ads with one of the worlds biggest advertising companies for brands including VW, 1664, American Airlines, etc. Born in Glasgow (a very long time ago) Garry went to prestigious edinburgh catering college for 3 years whilst working in one of Scotland top 5* hotels. Nice guy, good cook, intermediate skier. Ski season chefing is a challenge on the bucket list that's he's really excited about ticking off with you!


Nat
Nat has been combining working in a little hotel in the Peak District with traveling up and down the country working at music festivals such as, download, v fest and creamfields. Nat fell in love with the Aravis after visiting one of the team members last in March so was very pleased to be offered a place on the team. Nat is hoping to learn how to snow board to a high standard whilst making new friends along the way.
Lizzie
Lizzie is joining us back in the Aravis for her third winter, though swapping her Front of House role for a new challenge this year in the Housekeeping team. Lizzie purpots to be a skier, but much prefers to spend her free time napping.