You can be assured of a friendly and professional service from our ski team which goes far beyond that normally offered by the large skiing operators. Your dedicated Ski Weekender team will be there to look after every aspect of your time with us and are always on-hand to help you relax and unwind in a great setting.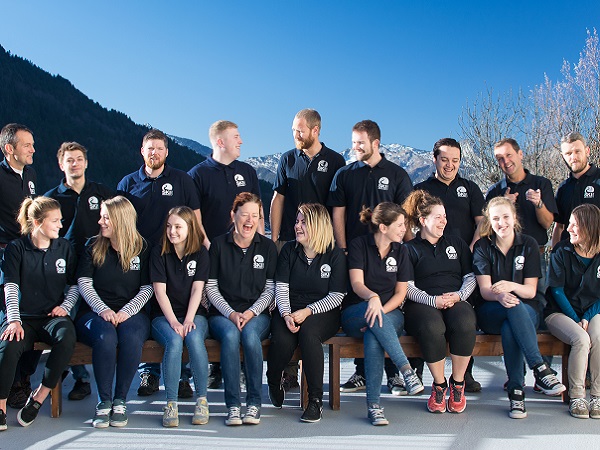 Whatever you are looking for out of your holiday – you can trust us to take the hassles away from your trip – after all, you are on holiday!
Although mostly all based at our Aravis Lodge you will see the our welcoming Drivers and Reps in other accommodations and at Geneva airport.
Our office based team are just a quick phone call away, and have a huge experience of all of our resorts, accommodations and how to help you get the most from your time away!
Recruitment and Work for Us
We are still recruiting for this coming winter season 2017 / 2018. If you are interested in working for Ski Weekender next season please visit our recruitment page which has full details of all the job roles we will have on offer and how to apply for them.
Please see below our Ski Team for the 2016 / 17 season…. we shall have details of the new team coming soon!




Paul
Ski Weekender's founder, used to be a snowboarder but is now to be found more often on skis. Although largely office based these days he enjoys grabbing a pair of skis whenever he gets the chance to accompany guests for a quick ski in all of our resorts. A fan of a cheeky beer of an evening, he is often in the lodge bar chatting before dinner.
Erica
Well and truly established in the Aravis region year round, Erica is now launching in to her seventh winter . In between trying to bring some order to the office, Erica will be around the lodge making sure that everything is ship-shape and from time to time might be found in the bar enjoying a quiet pint of the black stuff.
Teak
After a couple of years in southern Turkey taking a break from a grown up job, Teak swapped a scuba tank for a pair of skis and has settled in the Aravis with his family. Now in his fourth year, Teak will be helping Paul with general operations around the business, and always up for a chat over a beer to talk about great days out on the slopes.
Tom
Tom is the person you'll speak to or email about booking your ski holiday with us. When he manages to escape the office, Tom is a keen snowboarder who enjoys getting out and about off piste to showcase his latest toys and gadgets. He's also our resident weather man – if you need to know the forecast, ask Tom – scarily he's normally right!




Aoife
Having spent the summer in the Aravis as well as travelling to Bali and spending time at home in Ireland, Aoife joins us for her fourth season. Building on last season's role of looking after the team and our guests in the lodge, Aoife's main concern is ensuring you have a great trip!
Sophie
Sophie will probably be one of the first people you speak to at Ski Weekender. Bringing a wealth of experience in logistics planning, Sophie will be making sure that you are collected at the airport. As well as helping us all improve the way we say things in french, Sophie is looking forward to sharing some fun times up the slopes with you.
Dean
Dean joins us for his second winter season in the Aravis, having split his summer between a bit of work/cycling with us and a bit of travelling . As our resident Ski Technician Dean brings a wealth of experience to the team. His laid back manner will put you at ease instantly and his snowboarding skills need to be seen to be believed.
Natalie
Nat returns for her second winter with us, bringing back a wealth of experience to our team. Having worked front of house in many top end restaurants/hotels in the UK and an experienced summer worker across Europe, we're proud she's bringing back her bubbly personality and enthusiasm to our 'Ski Weekenders'.



Chris
A recent Marketing graduate with a passion for adventure, Chris is joining the team for his first season on the snow. Having skied since his early years, taking time out for a ski season was never in doubt. He gets a buzz from skiing, surfing, climbing, mountain biking and any outdoor activity. Looking forward to greeting all the guests at Geneva and making sure they have a holiday to remember!
Danny
After growing up outside and working in the outdoors for nearly 15 years, the life-style has become more than just a hobby, it's a way of life .
Being fairly new to snowsports (4 years ) they have totally taken over Danny's life having now completed his ski and snowboard instructor as well as ski tech courses. This will be his second winter season, but his first in the Aravis- the first of many ?
Ciaran
Ciaran admits to being a keen sportsman, competitive and fun loving. He has recently qualified as a sparky and is very excited to be following his passion for skiing and the mountains working his first season with Ski Weekenders. He is already looking forward to meeting lots of new people and sharing good food, company and some laughs.
Sionaid
Sionaid is spending her first season abroad and in the Alps. After several years of teaching, she has traded in the classroom for a more outdoor education. She has snowboarded in Ontario, Quebec and most recently did a season in the Rocky Mountains, Alberta. She can't wait to find out what the Alps has in store for her both on and off the slopes.




Vicky
Vicky joins us for her third season after successfully completing a Biochemistry degree. This year she is swapping her housekeeping role of previous years to a guest facing front of house role and looks forward to sharing her knowledge of the local area and the mountains over a cup of tea and a slice of cake.
Lizzie
Lizzie is super excited to be rejoining us this year having left a successful career in retail. Her passion is customer service and as an experienced skier and past Ski Weekender guest, Lizzie will be more than happy to talk mountain antics over afternoon tea.
Sally
After cycling from London to Paris in a charity event, Sally graduated from Falmouth University in Press and Editorial Photography, during which she gained a love of photographing sports as well as learning to surf and windsurf. She is back home in the Yorkshire Dales helping out in her mum's Coffee Shop and B&B.
Georgie
Georgie is taking a gap year before studying Sport coaching and development at university and is joining our housekeeping team. This will be her first time skiing and is very much looking forward to getting out on the slopes to learn some new skills.


Diego
Diego is one half of our chef team serving food one expects from a high-end restaurant rather than the French Alps. Having grown up in Guatemala Diego trained in the world famous Le Cordon Bleu Cooking School in Paris followed by extensive experience at a 2 Star Michelin restaurant also in Paris. Having hit the snow for the first time last year, he's excited to hit the slopes again.
Jade
Having also trained at the world famous Le Cordon Bleu School in Paris Jade is the other half of our returning cooking double act. Following her training Jade proved a real hit at one of the best Patisseries in Paris. Baking is her true passion so afternoon tea is certainly not to be missed. Jade is an accomplished skier and is looking forward to spending another winter with a great team cooking amazing food for our guests.